The Flawed Genius of YuYu Hakusho ft. Kae Savar
2 years ago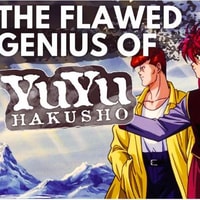 YuYu Hakusho is 90s anime at its best, an epic exploration of the limits of the medium at the time. From iconic voicework, gorgeous color pallets, and outstanding direction, YuYu Hakusho stands above its peers at the time in its execution. Written by the same mangaka that would go on to write Hunter x Hunter, he nevertheless chose to cut the run of YuYu Hakusho short for a devastating reason, one which we dive into at the end of the episode.
YYH is chocked full of nostalgia and amazing fights, and still managed to find the time to invent Being Bisexual. Join us on our deep-dive into one of our favorites, and discover the beauty of YuYu Hakusho
00:00 - Get Ready to Die, Yurameshi 00:45 - Show/Guest Intro 04:45 - YYH Production Background 12:45 - The Concept 17:20 - The Aesthetic 21:40 - The Plot Hook 26:10 - The Perfect Dub 32:20 - The Fights 36:05 - Anime vs. Manga 44:15 - The Ending that Wasn't 50:00 - How Writing Manga Destroys You 56:30 - Falling in Love with YYU 59:46 - Outro
We're joined again by Kae from the 3AM Thots podcast (You can find them at @Obaewankaenobi on Twitter and Instagram). Kae is currently studying for their Masters in Interdisciplinary studies focusing on Psychology and linguistics, and is a master of all things related to Anime and/or Chris Evans.
We are also joined today by our faithful cohost, Henry Rosenberg (@Shankitystick)
Please give us a 5-Star rating on your favorite podcasting app, it really helps the show! If you're watching us on YouTube, giving us a like or a sub would be amazing and help us bring your more of that sweet sweet content.
Find us on Twitter! Podcast: @BrotakusPodcast Pax: @PaxLillin Hal: @Royal_Barnesss Henry: @Shankitystick Anna: @AnnaChicco2
Intro Song: F*** You, Pay Me (Instrumental) by Akira the Don
News Theme 1 by Audionautix is licensed under a Creative Commons Attribution 4.0 license. https://creativecommons.org/licenses/by/4.0/ Artist: http://audionautix.com/
Cover Art by Khori Allen Instagram: @khori_allen
To send us episode/guest suggestions, feedback, hate mail, love mail, fanfic or business/advertising inquiries, shoot us an email at [email protected].
Find out more at https://brotakus.pinecast.co
Check out our podcast host, Pinecast. Start your own podcast for free with no credit card required. If you decide to upgrade, use coupon code r-0da12b for 40% off for 4 months, and support Brotakus Anime Club.