S1E32 - JUJUTSU KAISEN! Best Show of the Year, or Naruto Ripoff?
2 years ago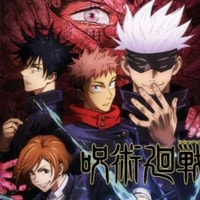 Winner of Crunchyroll's Best Anime of the Year, JUJUTSU KAISEN is a tour-de-force featuring some of the hypest fights in anime EVER. Gorgeously animated, tightly scripted, and bearing some STRIKING similarities to many other anime, does Jujutsu Kaisen rise above it's influences to become something truly remarkable? Or is it another cookie-cutter anime destined for the scrap heap of history?
Timestamps: 0:00Is Jujutsu Kaisen a Naruto Ripoff? 2:23 Intro 4:37Funimation Class Action Lawsuit 8:15 Lindsay Ellis Twitter Controversy 13:25 Golgo 13 Ties for Longest-Running Manga 14:55 Way of the Houshusband/Yasuke/Jojo's pt.6 17:37 Jujutsu Kaisen Deep-Dive 53:40 Outro
Please give us a 5-Star rating on your favorite podcasting app, it really helps the show! If you're watching us on YouTube, giving us a like or a sub REALLY helps us out.
Find us on twitter at: @BrotakusPodcast @PaxLillin
Intro Song: Scooby Doo Theme Song Trap Remix by Attic Stein Beats
News Theme 1 by Audionautix is licensed under a Creative Commons Attribution 4.0 license. https://creativecommons.org/licenses/by/4.0/ Artist: http://audionautix.com/
Cover Art by Khori Allen Instagram: @khori_allen
Interested in recording your own podcast? Visit https://squadcast.fm/?ref=brotakus to get started. If you want to know what it's like, email us! We love hearing from you and would love to advise you on starting your own podcast.
To send us episode/guest suggestions, feedback, hate mail, love mail, fanfic or business/advertising inquiries, shoot us an email at [email protected]
Find out more at https://brotakus.pinecast.co
This podcast is powered by Pinecast. Try Pinecast for free, forever, no credit card required. If you decide to upgrade, use coupon code r-0da12b for 40% off for 4 months, and support Brotakus Anime Club.