The Most Normal Fandom (Legend of Vox Machina) ft. Kae Savar & Emily Bassett
8 months ago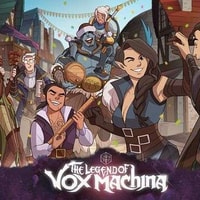 Seven adventurers played by some of the most famous voice actors in history come together. Their quest: To save the world from the wicked evil of the Briarwoods, and in the process bring about the most normal and healthy fandom in the history of online fandoms.
We're joined today by Linguist Brain Genius Extrordinaire Kae Savar (@Obaewankaenobi), whose research on parasocial relationships and fandom discourse is fantastic. We're also joined again by Emily Basset, excellent actor and creative as well as degenerate discourse goblin from the pits of hell. Join us as we dive into the discourse surrounding The Legend of Vox Machina, the history of Critical Role, and the quality of the show itself.
Brotakus is back on a weekly-ish schedule, and we're growing the team! If you or anyone you know is interested in coming on as an editor or producer, hit us up at [email protected] or @PaxLillin on Twitter!
Please give us a 5-Star rating on your favorite podcasting app, it really helps the show! If you're watching us on YouTube, giving us a like or a sub would be amazing and help us bring your more of that sweet sweet content.
Find us on Twitter! Podcast: @BrotakusPodcast Pax: @PaxLillin
Intro Song: F*** You, Pay Me (Instrumental) by Akira the Don Cover Art by Khori Allen Instagram: @khori_allen To send us episode/guest suggestions, feedback, hate mail, love mail, fanfic or business/advertising inquiries, shoot us an email at [email protected] Notes
Notes go here
Find out more at https://brotakus.pinecast.co