Demon Slayer: Mugen Train is a MASSIVE Disappointment ft. @Obaewankaenobi
1 year ago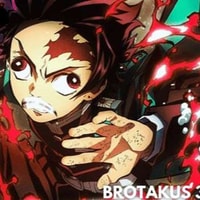 Our MOST REQUESTED episode is finally here. Demon Slayer: Mugen Train has been topping the box office for WEEKS, becoming the first anime movie here in the west to dethrone entire swaths of live-action films for weeks on end. It's also the first anime movie to knock Spirited Away off its throne as the highest-grossing anime film of all time, and by a HEAVY margin.
We're talking about Demon Slayer this week, doing a swift dive into the best and worst parts about the series before going deep into Demon Slayer: Mugen Train. It's a big episode, but it's a FIRE episode, in great part due to our guest this week, Kae from the 3AM Thots podcast (You can find them at @Obaewankaenobi on Twitter and Instagram). Kae is currently studying for their Masters in Interdisciplinary studies focusing on Psychology and linguistics, and is a master of all things related to Anime and/or Chris Evans.
We are also joined today by our faithful cohosts, Henry Rosenberg (@Shankitystick) and Anna Chicco (@HighlyAnnamated2)!
Please give us a 5-Star rating on your favorite podcasting app, it really helps the show! If you're watching us on YouTube, giving us a like or a sub REALLY helps us out.
Find us on twitter at: @BrotakusPodcast @PaxLillin
Intro Song: F*** You, Pay Me (Instrumental) by Akira the Don
News Theme 1 by Audionautix is licensed under a Creative Commons Attribution 4.0 license. https://creativecommons.org/licenses/by/4.0/ Artist: http://audionautix.com/
Cover Art by Khori Allen Instagram: @khori_allen
Interested in recording your own podcast? Visit https://squadcast.fm/?ref=brotakus to get started. If you want to know what it's like, email us! We love hearing from you and would love to advise you on starting your own podcast.
To send us episode/guest suggestions, feedback, hate mail, love mail, fanfic or business/advertising inquiries, shoot us an email at [email protected]
Find out more at https://brotakus.pinecast.co
This podcast is powered by Pinecast.