S1E37 - Horimiya is Romance Anime, Perfected ft. @AlexJFields of Team APS
1 year ago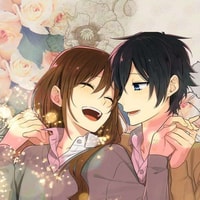 What if the nerdy, sad kid took off his glasses, got a haircut, huge tattoos, 47 piercings, and now suddenly looks like Japanese Russel Brand? And what if that kid fell in love with a beautiful girl with a wild temper and SEVERE unresolved daddy issues? Join us for our deep dive into Webcomic-turned-OVA-turned-Manga-turned-Anime, Horimiya!
We have Henry @Shankitystick and Anna @HighlyAnnamated2 back on the show today, but we have an even specialerer guest this week:
Fan favorite Alex Fields ( @AlexJFields) of the LEGENDARY @TeamAPS is back, baby!
Team APS is a group of friends whose popular YouTube Channel (youtube.com/teamaps) is pumping out CONSTANT sketches, deck techs, pack openings, and other content relating to modern Yugioh. If you're a fan of Yugioh, or just looking to catch up with what's going in in modern Yugioh right now, we can't recommend them highly enough. Their energy is infections, their content is hilarious, and I guarantee they'll be one of your new favorite channels.
Please give us a 5-Star rating on your favorite podcasting app, it really helps the show! If you're watching us on YouTube, giving us a like or a sub REALLY helps us out.
Find us on twitter at: @BrotakusPodcast @PaxLillin
Intro Song: F*** You, Pay Me (Instrumental) by Akira the Don
Other Songs: Akira by Akira the Don
News Theme 1 by Audionautix is licensed under a Creative Commons Attribution 4.0 license. https://creativecommons.org/licenses/by/4.0/ Artist: http://audionautix.com/
Cover Art by Khori Allen Instagram: @khori_allen
Interested in recording your own podcast? Visit https://squadcast.fm/?ref=brotakus to get started. If you want to know what it's like, email us! We love hearing from you and would love to advise you on starting your own podcast.
To send us episode/guest suggestions, feedback, hate mail, love mail, fanfic or business/advertising inquiries, shoot us an email at [email protected]
Find out more at https://brotakus.pinecast.co
This podcast is powered by Pinecast.