Why You Should Play (Not Watch) Persona ft. DataDave
2 years ago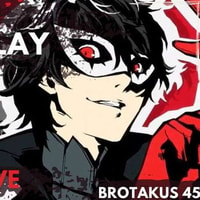 The Shin Megami Tensei series is renowned for its brutal combat, apocalyptic settings, and mature themes. What started as an offshoot titled "Shin Megami Tensei Revelations: Persona" quickly became its own series, with the Persona series now eclipsing the original in popularity both inside and outside of Japan. Combining aspects of dating sims, party management and Pokémon, the Persona series helped to revitalize the relevancy of turn-based JRPGs, with Persona 5 being one of the most lauded games of last generation.
We're joined today by Twitch streamer DataDave! Dave is a hyper-charismatic, kind, talented streamer, voice actor, and professor currently teaching Computer Science at Morehouse College in Atlanta. You can find him on Twitch at https://www.twitch.tv/datadave, and on social media @DataDave. Join us as we talk thirsting over Mass Effect characters, Chuck Tingle novels, and the sweet, SWEET glory of the Persona series.
0:00 Intro 1:30 Balancing Work and Streaming 3:13 Being Recognized by Students 5:30 Working as a voice actor during COVID 11:30 Thirsting over Mass Effect 14:00 Is it Chuck Tingle or an Isekai? 18:59 Persona 22:00 Persona 5 deep dive 36:50 What's not so amazing about Persona 41:40 Persona 6 Wishlist 47:00 Why we love Persona
Please give us a 5-Star rating on your favorite podcasting app, it really helps the show! If you're watching us on YouTube, giving us a like or a sub would be amazing and help us bring your more of that sweet sweet content.
Find us on Twitter! Podcast: @BrotakusPodcast Pax: @PaxLillin Hal: @Royal_Barnesss Henry: @Shankitystick Anna: @AnnaChicco2
Intro Song: F*** You, Pay Me (Instrumental) by Akira the Don
Cover Art by Khori Allen Instagram: @khori_allen
To send us episode/guest suggestions, feedback, hate mail, love mail, fanfic or business/advertising inquiries, shoot us an email at [email protected].
Find out more at https://brotakus.pinecast.co