The Ultimate Anime Dads Tier List ft. Eric Schutt & Bishop Chave
1 year ago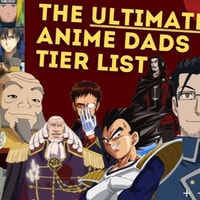 HAPPY FATHER'S DAY! In honor of all of the daddies and father figures in anime, we decided to rank... ALL OF THEM? We're joined today by REAL LIFE DADS Bishop Chave (@Reverend_Roscoe) and Eric Schutt (@EricIsTheSchutt) in this EPIC ranking of all the dads we love and hate.
0:00 Intro and Rules 8:12 Dragon Ball Z Dads 14:24 Jojo's Bizarre Adventure 19:27 Hunter x Hunter 24:07 My Hero Academia 27:57 Food Wars 29:00 Miscellaneous Dads 36:20 Naruto 39:50 Rare Dads 43:08 Fullmetal Alchemist 45:00 Avatar The Last Airbender 46:59 MORE DADS 50:19 One Piece 52:40 GRISHA YAEGER 57:00 Daddy Speedrun 1:02:44 More Avatar The Last Airbender 1:06:05 Outro
Please give us a 5-Star rating on your favorite podcasting app, it really helps the show! If you're watching us on YouTube, giving us a like or a sub would be amazing and help us bring your more of that sweet sweet content.
Find us on Twitter! Podcast: @BrotakusPodcast Pax: @PaxLillin Hal: @Royal_Barnesss Henry: @Shankitystick Anna: @AnnaChicco2
Intro Song: F*** You, Pay Me (Instrumental) by Akira the Don
News Theme 1 by Audionautix is licensed under a Creative Commons Attribution 4.0 license. https://creativecommons.org/licenses/by/4.0/ Artist: http://audionautix.com/
Cover Art by Khori Allen Instagram: @khori_allen
To send us episode/guest suggestions, feedback, hate mail, love mail, fanfic or business/advertising inquiries, shoot us an email at [email protected]
Find out more at https://brotakus.pinecast.co
Check out our podcast host, Pinecast. Start your own podcast for free with no credit card required. If you decide to upgrade, use coupon code r-0da12b for 40% off for 4 months, and support Brotakus Anime Club.