Zombieland Saga ft. AnnieMayPlay & Anna Chicco
1 year ago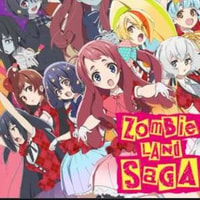 It's Night of the Living Pop Stars here at Brotakus, where we're finally tackling one of the biggest hits of the year, Zombieland Saga (and its sequel series, Zombieland Saga Revenge). The perfect gateway into idol anime, Zombieland Saga has some of the most devastatingly effective music and choreography in the game. With great writing, hilarious jokes, and an unwavering level of schmaltz, Zombieland Saga will melt even the coldest undead heart.
Our guest today is a FANTASTIC, energetic, and hilarious twitch streamer. A part of Rainbow Arcade and Team Transtopia, she can be found streaming most nights at AnnieMayPlay on Twitch or on twitter @anniemayplay. We couldn't have asked for a better person to join us to talk zombie girls, and we're so happy to have Annie on the pod!
Please give us a 5-Star rating on your favorite podcasting app, it really helps the show! If you're watching us on YouTube, giving us a like or a sub would be amazing and help us bring your more of that sweet sweet content.
Find us on Twitter! Podcast: @BrotakusPodcast Pax: @PaxLillin Hal: @Royal_Barnesss Henry: @Shankitystick Anna: @AnnaChicco2
Intro Song: F*** You, Pay Me (Instrumental) by Akira the Don
Cover Art by Khori Allen Instagram: @khori_allen To send us episode/guest suggestions, feedback, hate mail, love mail, fanfic or business/advertising inquiries, shoot us an email at [email protected]
Find out more at https://brotakus.pinecast.co