Yasuke: The African Samurai Who Changed Japan ft. Professor Thomas Lockley
1 year ago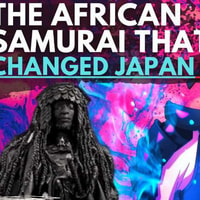 Today we're talking with Professor Thomas Lockley about his critical work in reinvigorating the story of Yasuke, the only non-Japanese Samurai. From starting riots in Japan with only his appearance to eventually chopping off the head of the greatest warlord in Japanese history, Yasuke's story has experienced a resurgence in recent years, with a new Netflix anime bearing his name as well as a major Hollywood movie currently in production.
Thomas Lockley is Associate Professor at Nihon University College of Law in Tokyo, where he teaches courses about the international and multicultural history of Japan and East Asia. He has published several dozen research papers and articles, including the first in the world regarding the life of Yasuke. He cowrote the groundbreaking book "African Samurai: The True Story of a Legendary Black Warrior in Feudal Japan" with Geoffrey Girard in 2019, and is currently working on his first educational manga series. When it comes to Yasuke, Thomas is THE expert, and it was an immense honor to have him on the show.
Check Thomas out at Academia.edu, and support him by buying his books!
African Samurai: The True Story of Yasuke, a Legendary Black Warrior in Feudal Japan: https://www.amazon.com/dp/1335044981/ref=cm_sw_em_r_mt_dp_Z3KCKY5MCRZ1E4W2AR0K?_encoding=UTF8&psc=1
The Japanese: A History in Twenty Lives https://www.amazon.com/Japanese-History-Twenty-Lives-ebook/dp/B084TF6S2V
0:00 Intro 5:20 The Growing Popularity of Yasuke 10:15 Yasuke the Baseball Player 11:00 What makes Yasuke Special 13:49 Common Misconceptions about Yasuke 17:57 Yasuke's Arrival in Japan 21:50 Gaining Favor with Nobunaga 23:30 The Warring States Period 29:50 Yasuke at War 33:33 Revolutionizing Firearms 36:16 The Death of Nobunaga 42:03 Yasuke After the War 46:27 Yasuke as a Symbol 52:58 Book Recommendations 54:18 Advice on Teaching in Japan
Please give us a 5-Star rating on your favorite podcasting app, it really helps the show! If you're watching us on YouTube, giving us a like or a sub would be amazing and help us bring your more of that sweet sweet content.
Find us on Twitter! Podcast: @BrotakusPodcast Pax: @PaxLillin Hal: @Royal_Barnesss Henry: @Shankitystick Anna: @AnnaChicco2
Intro Song: F*** You, Pay Me (Instrumental) by Akira the Don
Cover Art by Khori Allen Instagram: @khori_allen To send us episode/guest suggestions, feedback, hate mail, love mail, fanfic or business/advertising inquiries, shoot us an email at [email protected]
Find out more at https://brotakus.pinecast.co