S1E19 - DOROHEDORO: Blood, Magic, Lizards & Dumplings ft. Anna Chicco
1 year ago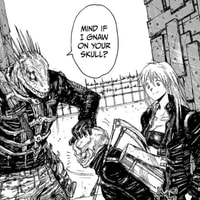 HOW?
How does an anime about sorcerers, blood magic, a guy with a lizard head, and a dumpling shop with a blood-drenched plot and an indecipherable name end up on the Netflix Top 10 for like TWO MONTHS out of nowhere? Join us as we dive into the world of Dorohedoro
On this episode we're joined again by NYC-based singer, voice actor, and BIG BRAIN anime nerd, Anna Chicco! (Instagram @swaggabond ) We'd be happy to have a professional Jazz singer, a brilliant scholor, OR a giant weeb on the show, but Anna is what we in the industry call a "Triple Threat." DONT WORRY THIRSTY BOIS, Hal will be back next week :)
Please give us a 5-Star rating on your favorite podcasting app, it really helps the show!
Find us on twitter at: @BrotakusPodcast @PaxLillin
Intro Song: F*** You, Pay Me (Instrumental) by Akira The Don- Twitter: @AkiraTheDon Website: AkiraTheDon.com
DOROHEDORO Intro and Outro from DOROHEDORO
The Lizard Song by John Walter
Cover Art by Khori Allen Instagram: @khori_allen
To send us episode/guest suggestions, feedback, hate mail, love mail, fanfic or business/advertising inquiries, shoot us an email at [email protected]
Find out more at https://brotakus.pinecast.co
This podcast is powered by Pinecast. Try Pinecast for free, forever, no credit card required. If you decide to upgrade, use coupon code r-0da12b for 40% off for 4 months, and support Brotakus Anime Club.