S1E36 - Is Beastars Furry Propaganda? ft. Mike Flanagan @MeeshPlays
1 year ago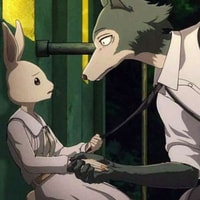 Featuring a hot, literal Teen Wolf and an actual Bunny Girl, Beastars made a HUGE impact when its anime adaptation dropped on Netflix in 2020. But is this 3D animated show really a classic piece on human nature and desire, or is it romantic furry propoganda designed to turn the frogs (and then you) gay? Join us for our Beastars review!
Making his third Brotakus appearance is Mike Flanagan, a fantastic actor from Buffalo, NY who can most often be found on his Twitch stream at @MeeshPlays! Follow MeeshPlays on Facebook for the latest streaming times.
Please give us a 5-Star rating on your favorite podcasting app, it really helps the show! If you're watching us on YouTube, giving us a like or a sub REALLY helps us out.
Find us on twitter at: @BrotakusPodcast @PaxLillin
Intro Song: F*** You, Pay Me (Instrumental) by Akira the Don
Other Songs: Akira by Akira the Don
News Theme 1 by Audionautix is licensed under a Creative Commons Attribution 4.0 license. https://creativecommons.org/licenses/by/4.0/ Artist: http://audionautix.com/
Cover Art by Khori Allen Instagram: @khori_allen
Interested in recording your own podcast? Visit https://squadcast.fm/?ref=brotakus to get started. If you want to know what it's like, email us! We love hearing from you and would love to advise you on starting your own podcast.
To send us episode/guest suggestions, feedback, hate mail, love mail, fanfic or business/advertising inquiries, shoot us an email at [email protected]
Find out more at https://brotakus.pinecast.co
This podcast is powered by Pinecast. Try Pinecast for free, forever, no credit card required. If you decide to upgrade, use coupon code r-0da12b for 40% off for 4 months, and support Brotakus Anime Club.