S1E34 - How Akira Changed Everything ft. Dr. Nona Carter
1 year ago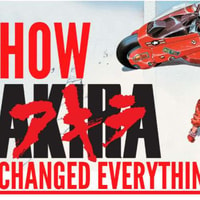 Before Miyazaki changed the game, before ANY anime had hit it big in the West, before anime was taken seriously as an art form, there was Akira.
A legendary film written and directed by Katsuhiro Otomo, based on the manga by the same name, Akira is an ultraviolent, devastating portrayal of a post apocalyptic Neo Tokyo ravaged by Biker Gangs, ESPers, and the wounds of the old wars. Animated with a smoothness and fidelity never matched before or since, Akira still stands as an unusurped example of what animation is capable of. A complicated, horrifying story of destruction and rebirth, with complicated questions and very few answers.
Joining us today is Dr. Nona Carter, a brilliant scholar of Japanese culture and literature. Having spent many of her formative years growing up in Japan, join us in hearing about her fascinating background, the scars of Hiroshima, and why Japan is the world's only post-apocalyptic society.
Interested in learning more about Dr. Carter or her class? Check out the Asian Studies department at the University of Buffalo for more information! https://arts-sciences.buffalo.edu/asian-studies.html
Timestamps: 0:00 Intro 2:05 Interview with Dr. Nona Carter 20:20 The Plot of Akira 29:05 The Akira Deep Dive 1:31:40 Outro
Please give us a 5-Star rating on your favorite podcasting app, it really helps the show! If you're watching us on YouTube, giving us a like or a sub REALLY helps us out.
Find us on twitter at: @BrotakusPodcast @PaxLillin
Intro Song: F*** You, Pay Me (Instrumental) by Akira the Don
Other Songs: Akira by Akira the Don
News Theme 1 by Audionautix is licensed under a Creative Commons Attribution 4.0 license. https://creativecommons.org/licenses/by/4.0/ Artist: http://audionautix.com/
Cover Art by Khori Allen Instagram: @khori_allen
Interested in recording your own podcast? Visit https://squadcast.fm/?ref=brotakus to get started. If you want to know what it's like, email us! We love hearing from you and would love to advise you on starting your own podcast.
To send us episode/guest suggestions, feedback, hate mail, love mail, fanfic or business/advertising inquiries, shoot us an email at [email protected]
Find out more at https://brotakus.pinecast.co
This podcast is powered by Pinecast. Try Pinecast for free, forever, no credit card required. If you decide to upgrade, use coupon code r-0da12b for 40% off for 4 months, and support Brotakus Anime Club.