The Voice Actor Roundtable ft. Kai Jordan & Elizabeth Ryan
1 year ago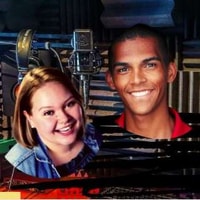 The long-awaited Voice Actor Roundtable is here! Since starting Brotakus we've been getting requests to do an industry deep-dive with working VAs, and we're finally delivering. A huge shout out to our audience and to Anna Chicco for helping with the questions and guide discussion. This is a must-hear conversation about the nitty gritty, day-to-day, DIY life of voice actors working their way up the career ladder, making connections, finding community, overcoming struggle, and so much more.
Joining us for the roundtable are Kai Joran (@KirikaiDubs) and Elizabeth Ryan (@Bazile213). Kai is a working Voice Actor and Video Essayist whose videos can be found at Nerdy Kirikai on YouTube, covering everything from BoJack Horseman to career retrospectives of must-know VAs. You can connect with him through his twitter or through AB2 Talent. He's smart and funny as hell and deserves your follow.
Elizabeth Ryan is a working Voice Actor whose voice can be heard in the Our Life visual novel and the Viral Pup animation series created by Derek Spangler! Liz is BRILLIANT, kind, insightful, and an all-around beam of light and I heartily encourage you to check out her VA reel at Elizabethryanvo.com .
2:10 What's the average day for a voice Actor? 4:15 Finding success during COVID 9:40 The moment you knew you wanted to Voice Act. 15:20 Breaking through after you start 21:00 Beware Pay-to-Play sites 22:50 Working inside and outside the industry 25:19 Saving money on your setup 32:00 Editing & Post-Production 35:50 Putting the ACTING in Voice Acting 43:15 Why Voice Act? 47:05 Finding the fun 49:15 The dark side of branding 56:15 Voice Actor inspirations 1:02:00 What advice would you give to your younger self?
Please give us a 5-Star rating on your favorite podcasting app, it really helps the show! If you're watching us on YouTube, giving us a like or a sub would be amazing and help us bring your more of that sweet sweet content.
Find us on Twitter! Podcast: @BrotakusPodcast Pax: @PaxLillin Hal: @Royal_Barnesss Henry: @Shankitystick Anna: @AnnaChicco2
Intro Song: F*** You, Pay Me (Instrumental) by Akira the Don
News Theme 1 by Audionautix is licensed under a Creative Commons Attribution 4.0 license. https://creativecommons.org/licenses/by/4.0/ Artist: http://audionautix.com/
Cover Art by Khori Allen Instagram: @khori_allen
To send us episode/guest suggestions, feedback, hate mail, love mail, fanfic or business/advertising inquiries, shoot us an email at [email protected]
Find out more at https://brotakus.pinecast.co