The Best Anime of Spring 2021
1 year ago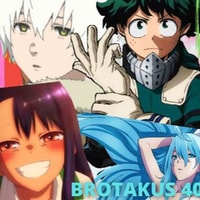 Join us as we talk Froppy Exploitation in My Hero Academia Season 5, bawling over To Your Eternity, and feeling COMPLICATED THINGS about Don't Toy With Me, Miss Nagataro! It's a JAM packed season, and we're breaking down all the anime you need to know AND talking about Shin-chan's lil pipi.
Timestamps: 3:30 What are Seasonal Shows? 5:26 Recent News 6:53 My Hero Academia Season 5 10:57 Vivy: Fluorite Eye's Song 16:33 Don't Toy With Me, Miss Nagataro 22:06 Odd Taxi 27:21 Nomad: Megalo Box 2 30:55 86 38:33 Zombie Land Saga 42:20 To Your Eternity 46:34 Shin-Chan and the Tiny P*nis 47:49 Tokyo Revengers 49:40 Mars Red 52:06 Best of the Season
Please give us a 5-Star rating on your favorite podcasting app, it really helps the show! If you're watching us on YouTube, giving us a like or a sub would be amazing and help us bring your more of that sweet sweet content.
Find us on Twitter! Podcast: @BrotakusPodcast Pax: @PaxLillin Hal: @Royal_Barnesss Henry: @Shankitystick Anna: @AnnaChicco2
Intro Song: F*** You, Pay Me (Instrumental) by Akira the Don
News Theme 1 by Audionautix is licensed under a Creative Commons Attribution 4.0 license. https://creativecommons.org/licenses/by/4.0/ Artist: http://audionautix.com/
Cover Art by Khori Allen Instagram: @khori_allen
Interested in recording your own podcast? Visit https://squadcast.fm/?ref=brotakus to get started. If you want to know what it's like, email us! We love hearing from you and would love to advise you on starting your own podcast. To send us episode/guest suggestions, feedback, hate mail, love mail, fanfic or business/advertising inquiries, shoot us an email at [email protected]
Find out more at https://brotakus.pinecast.co
This podcast is powered by Pinecast.